Small Print Book Festival
Where: Cowie Library
When: 7th March 2019
Summerlee Museum, Coatbridge
When: 13th February 2019
The Edinburgh Writers' Club
Where: Hilton Grosvenor
When: 5th November 2018
Summer Reading Challenge
Where: Bridgeton and Dennistoun Libraries, Glasgow
When: 9th August 2018
Edinburgh Comic Art Festival
Where: The Principal Hotel
When: August 12th
Glasgow Comic Con
Where: Royal Concert Hall
When: June 30th
Talk at SLA weekend course for librarians: 
Weavers of Dreams: Creativity and Imagination
Where: Glasgow Grand Central Hotel
When: June 23rd
Book now
BOOK WEEK SCOTLAND 2017 
Where: Stockbridge Library, Edinburgh
When: December 2nd 10.30-11.30am
Free
Where: Langside Library, Glasgow
When: December 2nd 2-3pm
Free
The Dark Side of Fairy Tales exhibition and launch
An exhibition of prints from The Little Mermaid and The Red Shoes and Other Tales graphic novels
Where: The Glad Café, 1006a Pollokshaws Road, Glasgow
When: Throughout November 2017
Launch: an evening of talk, music and wine
Where: The Glad Café, Pollokshaws Road, Glasgow
When: 7th November 2017, 19.30-22.30
Where: Newcastle
When: 28th October 2017
Where: Kendal
When: 14-15 October 2017
Find us at the NBM/Papercutz table 70, Clock Tower, 1st Floor
Talk: The Little Mermaid re-emerges re-told, chaired by Mary Talbot: Sat 14 October 10.30am-11.30am in the Comics Clock Tower Chamber
Signing at Page 45 stall: Sat 14 October 11.30am, Clock Tower
Children's event: Sat 14 October 3pm-4pm at Kendal Library
Where: Leeds
When: 23-24 September 2017
Find us at the NBM/Papercutz table 224, ComiXologie Marquee!
Children's event: Sat 23rd September 12.30-13.30 at Leeds City Museum Brodrick Hall
Panel: Comics for EVERYONE! Sun 24th September 13.30 at Carriageworks Studio Theatre (5th floor) with Cecil Castellucci, Gary Northfield, Joe Todd-Stanton, Caspar Wijngaard and Metaphrog. Chaired by Dan White.
Where: Bosco Theartre, George Street, Edinburgh
When: 14 August 2017
Waterstones Glasgow
The Little Mermaid Launch Party!
Presentation + book signing
When: 14th June 2017 7pm
Where: 153-157 Sauchiehall Street, Glasgow
Gosh! London "Process" session
When: 28th June 2017
Where: 1 Berwick Street, Soho, London
The Guardian Education
Reading For Pleasure primary teacher conference
When: 29th June 2017
Where: The Guardian Offices, Kings Place, 90 York Way, London
AMERICAN SIGNING TOUR 2017
TORONTO
TCAF | Toronto Comic Arts Festival |Toronto Reference Library | May 13-14
Special programme + signings at NBM/papercutz booth
Sat May 13 – 11am – Panel: Teamwork: Comics and Collaboration
Sat May 13 – 13.30 – Panel: NBM Publishing 40th Anniversary Celebration
Sun May 14 – 12.30pm – Spotlight: Kid's event
BETHESDA – DC area
Big Planet Comics | 4849 Cordell Ave. | May 17 | 6-8pm
BOSTON
The Million Year Picnic | 99 Mt Auburn Street | May 18 | 4.30-6.30pm
NEW YORK CITY – JERSEY CITY
Word Bookstore | 123 Newark Ave | May 20 | 2pm
NEW YORK CITY – MANHATTAN
Bank Street Bookstore | 2780 Broadway | May 21 | 2pm
Battery Park City School | May 22
GAINESVILLE
SAW The Sequential Artists Workshop | 710 SE 2nd Street | May 24
Millhopper Library Branch | 3145 NW 43rd St | May 24 | 6pm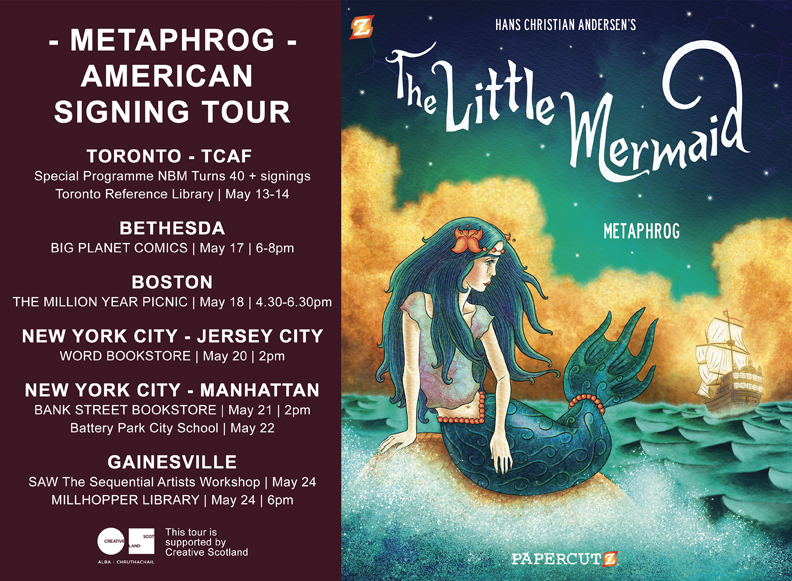 This tour was supported by Creative Scotland