We're honoured and delighted to have won The Sunday Herald Scottish Culture Awards 2016 for Best Visual Artist!
With Janice Forsyth (left) and Janice Kirkpatrick
The award ceremony was a fantastic evening, and it was a pleasure to meet some of the amazing finalists. Runners-up for the Best Visual Artist category were sculptor David J Mitchell, animation film maker and paper artist Eleanor Stewart and artist/activist Ellie Harrison. Congratulation to them all for their nominations.

Congratulations also to all the winners. It's fantastic to be in the stellar company of such luminaries as the Scottish Opera, theatre and film actors Alan Cumming and James McAvoy, author Jenni Fagan, ballerina Sophie Martin and The Glad Café.
A huge thank you to The Sunday Herald and to Janice Forsyth and Fiona Hyslop MSP.
Special thanks to all the judges: Creative Director at Graven Janice Kirkpatrick, author Alan Bissett, musician Roddy Woomble, Dean of Arts & Creative Industries at Edinburgh Napier University Pauline Miller Judd, journalist and broadcaster Ruth Wishart, journalist, editor and author Neil Mackay and actor David Hayman.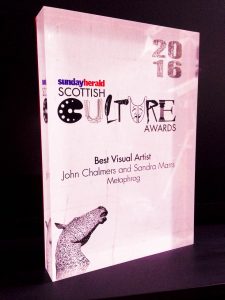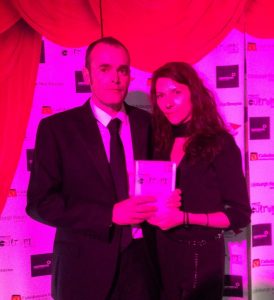 http://newsquestscotlandevents.com/events/sunday-herald-culture-awards/
The Sunday Herald also did a full page feature on the awards announcing all category winners here:
http://www.heraldscotland.com/news/14609499.And_the_winner_is_____Scotland_Sunday_Herald__39_s___39_Cultural_Oscars__39__celebrate_the_nation__39_s_greatest_stars_and_artists/