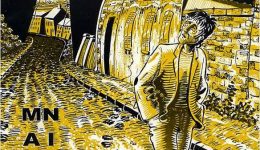 Unbelievably, this month sees the 20th anniversary of our very first comic. When we met in 1994 we started working on comics together almost right away and, after creating several short comic stories, eventually collected them in our first comic Strange Weather Lately – Martin Nitram #1 in December 1996. We brought this out with limited edition lino prints in silver and the tagline: "Stories from the surreal yet unnervingly real world of Martin Nitram". We jumped up and down a bit when Diamond Comic Distributors agreed to distribute it through their Previews catalogue.
Thus began our career in comics. At the time we were told our comic was the wrong size (we'd had it printed A4). But we didn't really care – we hadn't even thought at the time about comic shops and their coffins or boxes for storing American comic sized titles. Indeed we knew very little about the workings of the comic market. The comic quickly sold out. (There doesn't even seem to be any copies on ebay now!).
We followed this up with The Maze and then with a longer and more intricate Strange Weather Lately story arc published as bimonthly comics and gathered them all in our first graphic novels in 1998 and 1999. At the time, the Scotsman newspaper ran a "Who to Watch" feature on us and we were interview on the radio for The Brian Morton Show.
Our first comic,
Strange Weather Lately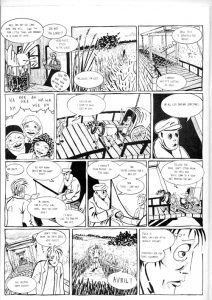 Extract from Strange
Weather Lately #1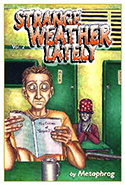 Strange Weather Lately
Graphic Novel
Between 1999 and 2011 we worked on the Louis series of graphic novels. Louis – Red Letter Day was originally intended to be a one off but we realised how much we loved the character and working with the Louis world that five more books followed. Much to our amazement we received nominations for the Eisner Awards and also the Ignatz Awards and international acclaim. We were delighted to receive coverage in mainstream media as many places didn't really review comics or graphic novels in the early 2000s. Our Louis books, perhaps because they were so different and a bit strange, found their way into publications like i-D (where Kodwo Eshun described Louis – Red Letter Day as "a seriously spaced enigma"), The Guardian (with a column on our work by Julie Burchill), SFX, Art Review, New Internationalist, The Herald, Creative Review among many others. Our comic/music/animation project with hey and mum and the Fat Cat record label, Louis – Dreams Never Die, was featured on the late, great John Peel's radio show along with his beloved The Fall and even received a lengthy write-up in Liberation in France.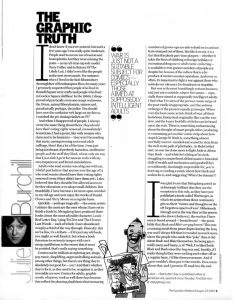 The Guardian – Julie Burchill – 2003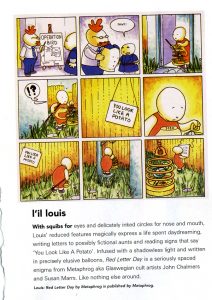 i-D 2000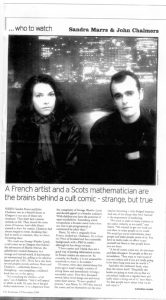 The Scotsman 1999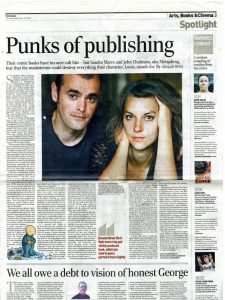 The Herald 2004
The Louis graphic novels (2000-2011)
Looking back now it is truly hard to believe that it's been 20 years already! Since then we've devoted all our waking hours to making graphic novels and comics. Naturally, there have been ups and down, disappointments, rejections and moments of elation. When we started we were both determined to make a living from our work, from being a writer and artist, but had absolutely no idea if this was even possible or indeed how we'd go about it. Comics weren't even respected back then, and many people thought they were just for kids, or just trash. Initially in the UK and US, we kept on being told that our work was too European, while in Europe, and in France particularly (even though Sandra is French) we were told that our comics were too Scottish. This is possibly because we were feeding them potato scones. Now things have changed and more people see comic and graphic novels as art.